Interstate trucking refers to where you carry out trucking operations across state lines. Given the mileage that you will cover as an interstate trucker, you are exposed to more risks as compared to intrastate truckers and as such you will be in need of a good interstate trucking insurance b policy to protect you as you carry out your trucking activities. Interstate trucking is subject to a number of regulations and fees which can be daunting and that is why we are here to make your operations much easier. Accidents that happen across state lines also tend to be very complicated as very many players come into play and this can slow down your operations. We offer insurance covers such as: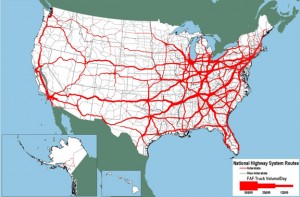 Public liability: this cover is mandatory for anyone wishing to carry out interstate trucking as per the Federal Motor Carrier Safety Administration. This cover is in place to protect you and pedestrians from any harm that could come about as a result of an accident for which you are at fault. This insurance also extends its cover to the medical expenses of pedestrians and motorists who get hurt as a result of an accident which you have caused and this is catered for by the bodily injury clause in the cover.
This cover also protects you from having to pay for repairs and any other expenses you will be subject to in the event that you cause damage to someone's property while hauling. This is the only cover that is mandatory as per the Federal Motor Carrier Safety Administration but for your own protection, we provide you with other types of covers to add onto your protection.
Cargo insurance: trucking cargo across state lines has disadvantages to it as the longer the cargo is on the road, the more threats it will be exposed to such as damage during an accident or theft. We provide a cover to insure you against any losses that you will incur as a result of loss of cargo during your journey and this will be dependent on the type of cargo and its value. You can pay for more insurance if you feel that the cover is not adequate.
Physical damage: in the event that you get into an accident, we will protect you by covering you against expenses that accrue from repair of the truck, towing as well as storage fees. We will also compensate you for the loss that you suffer as you wait for your truck to get fixed.
Workers' compensation: in a case where you fall ill and cannot meet your trucking obligations, we will cover you for the period that you need to recover. This applies to if you get injured while trucking as well. Our compensation provides your family with the money needed to cover the expenses incurred as a result of your burial or medical bills as well as contributes to your disability payments if you should become disabled in the process.
As an interstate trucking insurance company, we understand that interstate trucking is governed by many regulations and is subject to more fees as compared to the other kinds of trucking and as such, we are here to lessen the burden of those expenses.