Having a truck safe to secure your personal belongings including handguns is a great hidden addition to your truck. There are several different options and depending on what you want to lock up will help you determine what kind of safe you choose. Most of the units are very easy to install taking approximately 20 minutes from start to finish.
Console safe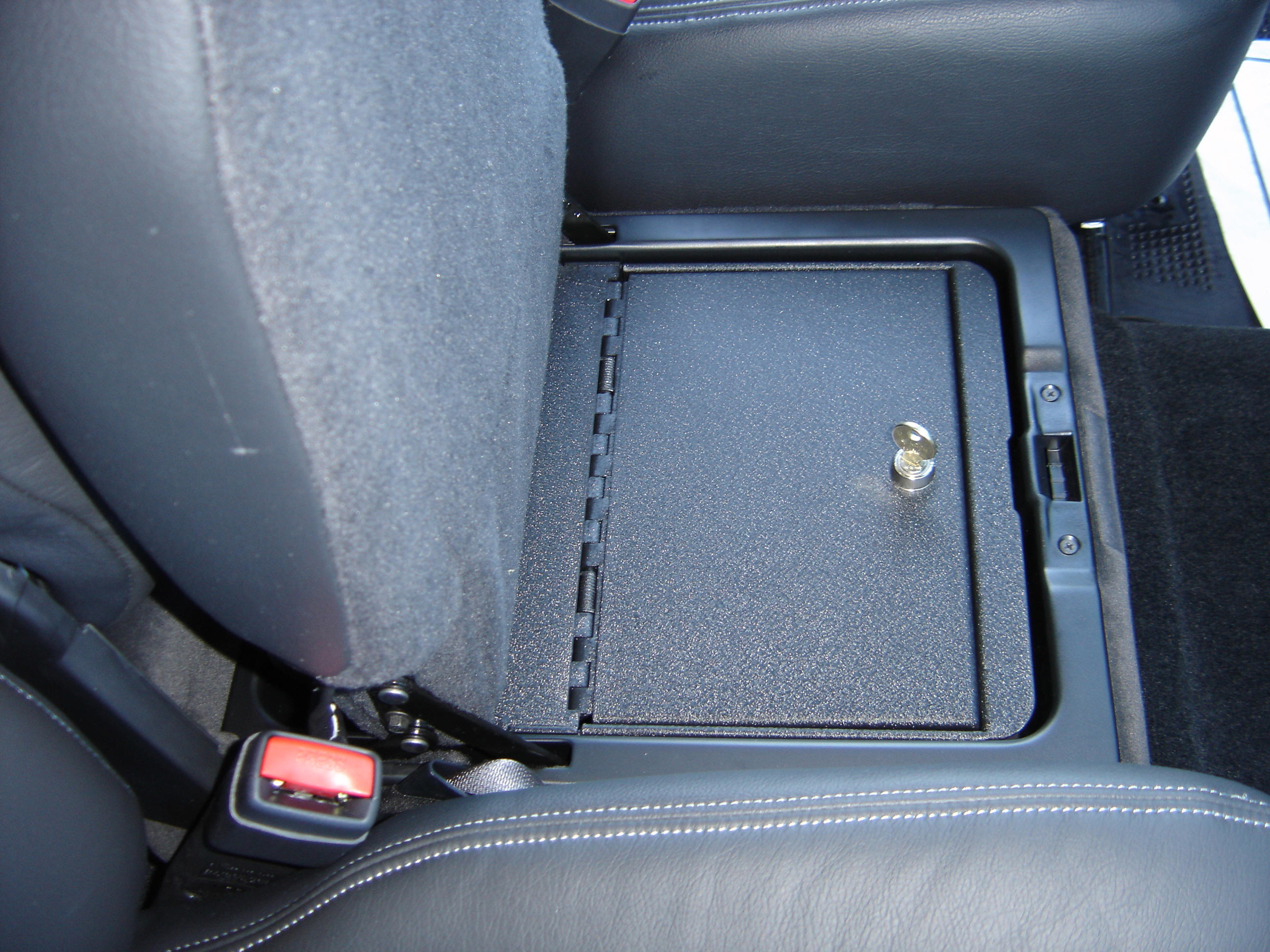 A console safe is a convenient and handy place for your handgun and personal items. There are many places you may go the have a no handgun policy and you need a plan to safety lock it up. Personal items such as purses or wallets can also fit in this model which is handy especially if you are going to the beach. The safe fits into the existing console by just removing a couple of screws and taking out the console box it slides right in. When you open the safe you will find screw holes to fasten the safe inside the console. Safes for different trucks may vary so be specific on your truck make and model when ordering.
Under seat console
This safe fits securely under the center console where the seat would be. You remove the seat and the safe attaches to the same hardware that the seat fits into.
Floor Safe
In the rear seat area, there is a factory installed plastic storage compartment. There are custom made floor safes that fit into that opening. Removing the plastic storage is easy with a few screws your safe fits down into the same opening. Some people have sprayed their safes with undercoating spray to help extend the integrity of the metal.
Rear seat lock box
In trucks, the rear seats lift up for additional storage. There are custom made safes that fit into this area. The nice thing about this type of safe is that it is large enough for storing your bigger items like golf clubs, tents, beach chairs, etc.
Other important things to remember
Where the safe is attached is important. The bolts or screws should be on the inside of the safe. This prevents any removal attempts since the hardware is not accessible. The pins on the hinges are also important. You want to make sure quality hinges that cannot be easily tampered with by a would-be thief.
Another important item to think about is access and entry. If you are looking for an easy access safe, a keypad entry may be the choice for you. Key entries are more intended for transportation of items that do not warrant quick access. Laws regarding concealed weapons vary from state to state so when traveling make sure you are following the laws of the state you are in. Using a truck safe to secure your guns or personal items is a smart and safe decision.