Trucking Security Precautions
Whether it's heavy haul or traditional over-the-road trucking, customers and carriers alike need to remain vigilant in their efforts to avoid, detect and prosecute criminals and scam artists whose goal it is to defraud, hold hostage and even steal loads.  Basic, simple procedural changes may be all that is needed to prevent such attacks and ensure that the commodities being transported arrive safely and securely at their intended destination.
One practice is when a fraudulent carrier assumes an old motor carrier (MC) number.  Whether stolen online or purchased from unscrupulous individuals, the criminal reaches out to brokers and customers to update their contact information.  In other words, the crook tells the customer they're Trucking Company XYZ just like before, but that they have a new phone number.  When this occurs the unknowing shipper may begin contacting that illegal carrier for rates, or worse, for cargo transport.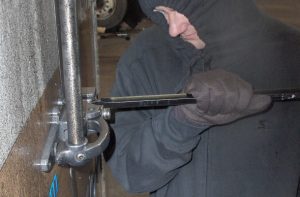 Another common situation is referred to as reincarnated or chameleon carriers.  A reincarnated carrier is one that has been shut down – generally as a result of safety issues – and quickly reopens under a new name.  Whether its a carrier with an illegally-obtained MC number or a reincarnated chameleon carrier, any business performed with such companies is doomed to double- or triple-brokering, if not outright theft.
When entering into a new relationship with a carrier, an utmost priority should be ensuring that the carriers insurance is current and valid.  Be sure to call the phone number listed on the carriers Certificate of Liability Insurance – whoever answers the phone should freely identify themselves as well as the name of their company, and should be able to answer questions and provide specific details relating to the carrier in question and their insurance levels.
Employing an insurance monitoring company is another way to help prevent criminal activity.  Insurance monitoring companies typically work with thousands of insurance providers to check for, monitor and handle the status of applicable coverage and protection levels for their clients, helping to allow the customer to concentrate on the daily demands of running the business instead of constantly checking the insurance of all their various trucking partners on an ongoing basis.
It would be wise to place new carriers in a probationary status, allowing them to handle only one load at a time.  This status could run concurrently with other requirements such as the submission of references, and would likely disappear after a certain number of successful deliveries.  The carrier's submission of broker or customer references should be a formality and will likely paint an accurate and current picture of the trucking company that can be used to assist in the overall vetting process.
Another way to obtain updated data about a carrier is to visit the US Department of Transportations Federal Motor Carrier Safety Administration (FMCSA) website and use their Safety and Fitness Electronic Records (SAFER) system.  This system is available at no charge and can be used to search the FMCSA website, order company safety profiles and obtain snapshots of trucking companies for a quick company summary.  Their official website is located at http://safer.fmcsa.dot.gov.
In today's world of sophisticated crime rings, advanced methods have been created to defraud both trucking companies and their customers.  Although most loads are transported without incident, additional safeguards must be implemented in order to stay one step ahead.  Reliance Partners takes carrier compliance very seriously, vetting its partners in strict accordance with ISO 9001:2008 guidelines.  While additional steps cause a slight delay in partnering with a new carrier, the alternative invites cargo fraud.  Let Reliance Partners protect you and your cargo by calling us today at 877.668.1704.