Due to the high demand of wood in our lives, tons of wood are hauled every day from one location to another depending on where it's needed for further processing. While the hauling process may appear to be a simple task with fewer risks, you'd be surprised to discover that it's one of the riskiest businesses in the freight hauling industry. Log truck insurance covers a wide range of possible damage scenarios that could occur in the event that logs cause damage to other road users. If you are a log hauling business owner, having a log truck insurance policy is one of the best ways to put your mind at ease.
Besides the ever changing road and weather conditions that pose myriad challenges for truck drivers, logs can weigh over a ton each and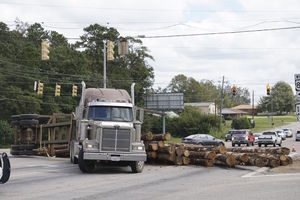 amass 20-100 feet or more in length. There are, therefore, high risks of tipping and injuring other roads users. High-end safety measures aren't the solution either because even the most securely-tied loads have burst in the past.
Partnering With a Log Truck Insurance Broker
Loggers are not only well-trained but also work hard to secure heavy tree loads onto trucks. However, accidents still occur. When hauling these heavy loads several miles across the country, therefore, partnering with the right insurance broker is mandatory for every log hauling business. While safety and comprehensive protection should be your priorities when scouting for logging truck insurance, price also affects your bottom line. Working with an insurance broker who deeply understands your needs and is ready to help you protect your assets makes all the difference.
• Customized coverage: They will take their time to educate you about common insurance coverage gaps to enable you make the right decision about your policy plans. They also have the capability to tailor log insurance policies to fit your business situation.
• Affordable Rates: They provide competitive coverage rates leaving you to focus on other important aspects of your business. Coupled with professional advice on risk management, competitive rates help you get utmost protection for your insurance expenditures.
• Tailored services: Irrespective of your fleet's size, they will strive to provide you with personalized services from their dedicated teams.
Final Verdict
You don't have to take log truck insurance as a formality. The logging truck insurance covers are actually meant to cushion your business from imminent damages that you are likely to incur in the event of damages and emergencies.
Nonetheless, you need to be on the lookout for the best log insurance coverage that will cater for your business interests fully. With many insurance brokers in the market, not all of them will be ready to help you out when an accident occurs. Hire a trusted, experienced, and bespoke log truck insurance broker, and you will save your business thousands of dollars and valuable time in case of any eventuality. Remember, the only way to minimize your log hauling business and protect your overall business bottom-line is to count on your industry expertise and connections.